The Scribbler: The Hersheys, the Kreiders and the last of the Conestogas
JACK BRUBAKER | LNP Columnist Dec 30, 2016
Kreider Farms, one of Pennsylvania's largest dairy farms, dominates the landscape east of Manheim. A new silo/observation tower overlooks much of the Kreider acreage, including the gravesites of Michael and Mary, the last Conestoga Indians documented as living in Lancaster County.
The Dec. 13 Scribbler column described the work Art Young and Kreider Farms have done to mark Michael's and Mary's graves on the Christian Hershey farm along Indian Village Road in Penn Township. That is just part of what the Kreiders, who intermarried with the Hersheys nearly a century ago, are doing to memorialize their family history.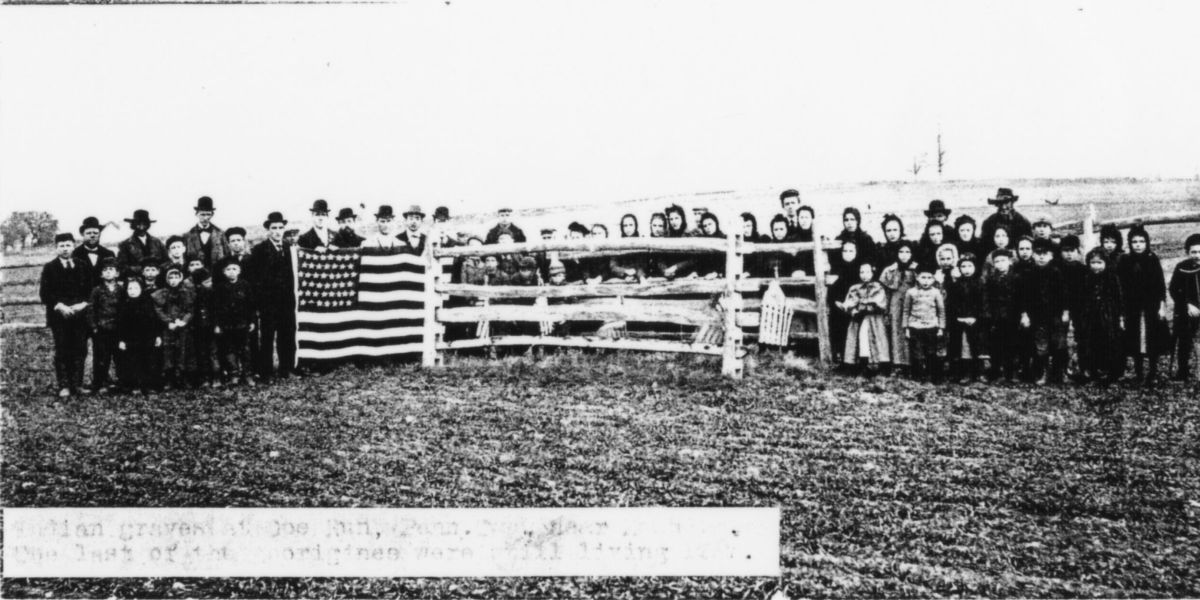 Doe Run school students attend an 1897 ceremony at the graves of two Conestoga Indians near Manheim.
Another part is a detailed chronology of events related to the family and its association with Michael and Mary and other Conestogas. Craig Stark, an independent research analyst and a Hershey family descendant, is preparing that history for Ron Kreider, president and owner of Kreider Farms.
"My ancestors took it upon themselves to protect Michael and Mary from the Paxton Boys gang," Kreider says. "I think it is a fascinating story to be shared with those that appreciate Lancaster County's rich and long history."
Here is a brief description of the family's history and its association with Michael and Mary.
Christian D. Hershey (1660-1720), a Mennonite bishop, along with Michael Kreider and Hans Brubaker, acquired a 1,000-acre tract of land along the Little Conestoga Creek in what is now East Hempfield Township in 1717.
In 1739, Christian R. Hershey, grandson of the patriarch, acquired land 2 miles east of Manheim on Doe Run. This property, known as the Christian Hershey Homestead, eventually sheltered Michael and Mary, who left the tribe at Conestoga Indian Town well before the Paxton Boys massacred the remaining Indians in December 1763.
Michael and Mary lived in a hut or wigwam near Doe Run on the farm. When the Paxton Boys headed north searching for Conestogas they believed to be residing in the Manheim-Lititz area, Michael and Mary hid in the Hersheys' basement.
Michael and Mary survived into their late 80s. The Hersheys buried them where they had lived and marked their graves with the stones that Kreider Farms and Young recently accentuated.
In 1893, more than a century after Michael and Mary died, Doe Run School observed Indian Day. Students presented a program based on the lives of these Conestogas and the extermination of their fellow Indians. The school held a memorial service at the gravesite.
Indian Day became a community event Jan. 1, 1897. Local dignitaries accompanied the children to the gravesite.
Mary Reist Hershey, born on the Christian Hershey farm in 1903, married Noah W. Kreider Sr. in 1923, uniting the Hershey and Kreider families.
Milton S. Hershey, founder of the chocolate empire, was a member of this family. He may have visited the farm in his youth. He definitely visited Michael and Mary's graves during a Hershey family reunion in 1907.
Stark has assembled a number of newspaper stories discussing Hershey family reunions and the Hersheys' reverential treatment of Michael and Mary's graves.
For example, the Manheim Sentinel in 1914 discussed the ongoing preservation of the graves, noting that the Hershey family's friendship with and remembrance of the Indians "must be the ancestral pride of the family."
Thanks to the Kreiders' continuing interest in their family history relating to the Conestogas, as well as Stark's research and Young's marking of the burial site, a small part of Lancaster County's Native American heritage has been carefully preserved.
Jack Brubaker, a retired LNP staff writer, writes "The Scribbler" column twice a week. He welcomes comments and contributions at scribblerLNP@gmail.com.