Ethan Allen Kreider
Ethan Allen Kreider was born on April 22, l900, in an old colonial brick home at 2803 Horseshoe Pike in Campbelltown, Pa. The Campbelltown Cemetery was immediately in back of the property. Ethan was the first child and first son of Henry K. and Katie Kreider. The year he was born, his father was elected to the Brethren in Christ ministry. In the spring of l905, Henry and Katie, Ethan and his two younger brothers, John and Herbert, moved to the "Kreider Homestead," the farm where Henry himself had grown up. Having taught rural public school for ten years, Ethan's father now turned to farming as the means for supporting his ministry; thus Ethan and his siblings experienced their childhood on the farm just east of town. The family grew as sister Mary joined the family in l906, and another sister, Grace, in l909.
Ethan attended elementary school in Campbelltown. The school was 1/4 mile away, so he walked. He was about 8 years old when the Hershey Trolley began its regular route from Hershey to Campbelltown.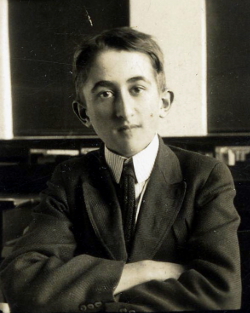 Ethan Kreider
In 1914, Ethan finished 8th grade and took his high school entrance exam. That fall, his father held a Harvest Praise service in his barn; Ethan and his brothers were more than willing to take the wagon and team of horses to meet folks who came by trolley. Also, during those horse-powered days, a funeral home on West Main Street in Campbelltown would occasionally borrow some of the Kreiders' best horses for use in the funeral procession. Ethan began his high school studies at Hershey High School, in a new building given to the town by Milton S. Hershey. Traveling to and from school on the trolley, Ethan completed 9th and 10th grades.
The year Ethan turned 15, a third sister, Anna, was born. Around that time, Campbelltown acquired electric power, and Ethan's father bought his first automobile. After Ethan's sophomore year at Hershey High School, he took a job at the Hershey Planing Mill for a few months and also attended Messiah Bible College Academy where he took courses in typing, bookkeeping and commercial law.
His diary of l918 mentions the job at Hershey Planing Mill and Lumber Company where he was hired as a laborer earning 33 cents an hour. Ethan also mentions hard work on the family farm, plowing and seeding, husking corn, sawing and chopping wood, threshing wheat and oats, cleaning stables, butchering hogs and washing the auto and buggy. He also assisted his father working on telephone line maintenance.
A world event recorded in the diary of this astute l8 year old was the signing of the Armistice on November 11, 1918. They were returning from Mastersonville, and he wrote, "Whistles were blowing when we got up in Lebanon County. Church bells rang and (there was) a parade in town."
Around the same time that fall, local anxiety was high as Spanish Influenza was "very serious in Campbelltown and Palmyra" causing 6 deaths in the area. It closed down the church, "stopped work at the mill because 5 mill hands had the flu. Very many people (were) sick with pneumonia and influenza."
There were other significant concerns on Ethan's mind in the midst of all these experiences. Having been baptized in l918, and having joined the Palmyra Brethren in Christ Church, he certainly must have felt the need to be an exemplary youth, as the eldest child of the now Bishop Kreider. Also, he was finding it increasingly difficult to work on the family farm, because of his asthma and respiratory allergies.
So, when a new bank opened in Campbelltown in 1919, Ethan decided to try out a new vocation: banking. His father and he helped organize the Campbelltown Bank; he studied at Lebanon Business School, expanding his skills. He served that bank as a cashier for 35 years. During the Great Depression, many banks closed for a few days and some of them never re-opened. The Campbelltown Bank was able to re-open, partly due to the sound financial policies set by Ethan and his father. When Campbelltown Bank later became Valley Trust Bank, Ethan carried the responsibility of Bank Director for l7 years.
Ethan's physical limitations had led him to a vocation for which he was uniquely fitted, one by which he could serve many people. Values like honesty, integrity and service had been modeled in his home. Now, as an adult, he was growing in his knowledge of people from all walks of life. He developed a close rapport with clients and banker associates, enriching their lives with his gentleness, tolerance and friendliness. His conversations were characterized by humor and an inexhaustible repertoire of anecdotes.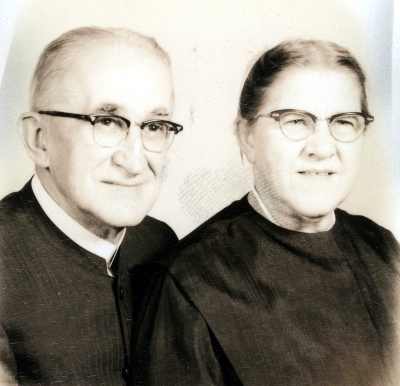 Ethan and Esther Kreider
This fine young man began showing another interest in addition to his chosen vocation: he was being seen driving to the Fairland Brethren in Christ Church with his horse and buggy. A petite young lady from Cleona had caught his eye! In l921, Esther Musser Books and Ethan Kreider were married. Ethan's father, Bishop Henry Kreider, and Esther's father, Jacob Books, a carpenter-minister, shared in performing the wedding. They were married in Cleona, Pa., in the home of Esther's parents. Ethan and Esther spent their honeymoon at Niagara Falls, traveling by train and staying with church friends.
The couple's new home was being built by Esther's brothers at 2716 Horseshoe Pike, across the field from the Kreider family farm, and adjacent to the retirement home of Ethan's mother and father. The bride and groom lived at their respective homes until construction was complete. This homestead became home to Ethan and Esther's six children: Marlin, H. Ellis, Ruth, Harold, Ray and Marian. (Another son, Lester, was stillborn). Ethan and Esther lived in this house from 1921 until l976 when they moved to the Messiah Home in Harrisburg.
Ethan and Esther had a high regard for persons who served in church ministries. They welcomed many preachers and missionaries into their home for meals and fellowship. Ethan himself was a very loyal and useful churchman and member of the Brethren in Christ Church throughout his life. He served as a deacon for 20 years, a treasurer for many years, Sunday School teacher, song leader and church board member. After his father's death, Ethan was asked to succeed him as chairman of the Messiah Home Board.
Not only was Ethan active as a churchman, but he was highly-esteemed in the community. He was a member of the Bank Board, the United Christian Cemetery Board, the Water Company Board (the company begun by his father in 1922) and auditor of South Londonderry Township for l2 years. Ethan also served as a board member of the Lebanon County Mental Health and Mental Retardation Association and treasurer of the Palmyra Senior Citizens for a number of years.
Ethan went out of his way to help people. Sometimes, after the bank had already closed for the day, people would come to his home to pay a bill or make a deposit. Many evenings, Ethan was working at the bank. He would also welcome other jobs that gave him opportunity to meet and enjoy people, like clerking farm or home sales, or driving the Gingerich Bakery truck. He did not own his own car until he was in his mid-thirties.
Ethan frequently had to make trips to Philadelphia to the Federal Reserve Bank. He would invite along one of his sons for the ride on the Reading Railroad from Palmyra to Philadelphia---and sometimes they would fit in a visit to the zoo. For relief of his respiratory problems, Ethan would occasionally take some rest time at Eagles' Mere, north of Harrisburg, and again take along one of the boys for the brief vacation. When home, he usually did the family grocery shopping from a list that Esther made. Ethan also spent time with his parents who lived next door, and valued their counsel and advice.
Clearly, Ethan was a man of wide interests. Aside from his church and community ministries, his family and his vocation, he found enjoyment in gardening, hiking, singing, tracing genealogies, reminiscing and telling stories. On Sundays, Ethan would play the piano and sing many old hymns, often in preparation for leading them in the morning service. He especially loved singing hymns in German. He had a keen memory for people and conversations and enjoyed sharing these with his family. He enjoyed reading maps and learning vicariously about places he otherwise would have been unable to visit.
Ethan and Esther placed a high value on their family's spiritual training. Their children learned honesty, integrity, hospitality, responsibility and trust in God as their parents modeled a life of faith. For Ethan and Esther, a right relationship with their Creator took priority over all other aspects of life. Esther's Christian faith was great. She found strength in prayer, often behind closed doors on attic steps. Her son, Harold, said, "We knew where she was when we didn't know where she was. Dad and Mother were so much wiser than we ever knew, but we know now." Esther, a homemaker and mother of six children, found many ways to serve God's children-visiting neighbors, making soap for Mennonite Central Committee, writing to missionaries, and praying passionately. Esther's joy in the Lord was evident as she sang even while busily at work in her home.
Ethan and Esther were thrilled with the arrival of each of their ten grandchildren. They welcomed the times when their children and grandchildren would gather with them in their home. Before the eldest grandchild, Kevin, was born, his grandfather bought a ball and tractor for the baby, so sure was he that the baby would be a boy. He was right, and nine out of his ten grandchildren were boys.
Kevin Kreider, Harold's son, recalls visits to Campbelltown: "The most vivid childhood memory I have of going to Grandpa and Grandma's is when all their children and grandchildren would gather with them at Campbelltown. Grandma would spend all day cooking; at mealtime we would sit around the huge table they had and eat until we couldn't eat another bite. After dessert, we'd all sit around and talk. There was always a big plate of cookies to pass around. As you can imagine, we kids weren't too interested in the conversation; but we had fun passing the cookies ten or twelve times in a row. The adults were so busy talking that they wouldn't notice how often the plate was going around---but we got a lot of laughs out of it!"
Brian Landis, son of Ruth (Kreider) and Howard Landis, has similar memories of abundant food at his grandparents' table. He remembers vividly how his grandmother, wanting to make sure everyone had enough to eat, literally pushed chicken onto his plate.
In addition to memories of good food and games of Parcheesi in the parlor, granddaughter Susan's strongest memories of her grandfather center on times called "Family Worship." Following a meal, before clean-up began, all those present would join in a time of scripture readings, singing and prayer. "I remember kneeling, at Grandpa's suggestion, beside the kitchen table, leaning on one of those old wooden chairs. It felt like holy ground, there with all the family bowed down together."
On Thanksgiving Day in l976, at the age of 76, Ethan passed away in the Harrisburg Hospital. Esther survived him for an additional l4 years, before her death in l990. During those years the family suffered the loss of Marlin in l98l and Ray in l983, and witnessed the marriages of their grandchildren as well as the births of some of their great-grandchildren.
Ethan and Esther left a great legacy to their family and friends: examples of faithful and loving service to God and those who touched their lives.


Marlin